WORSHIP AT TRINITY CHURCH
IN-PERSON
Sundays 8:00, 9:00 and 10:30 a.m.
848 Gold Coast Rd.
Papillion, NE 68046
LIVESTREAM
Online Sundays at 9:00 and 10:30 a.m.
When you are unable to attend worship in-person,
our online community will welcome you to
stay connected to the body of Christ.
Subscribe to our YouTube channel
COMMON QUESTIONS
Visiting a new church can be awkward and maybe even a little uncomfortable. Knowing what to expect can help alleviate those feelings.
WHEN SHOULD I ARRIVE?
It's a good idea to arrive about 10 minutes early to acclimate to your surroundings and have some time to get settled for worship. You'll be greeted by one of our awesome hospitality team members. They are prepared to answer those typical questions like: Where are the restrooms? Which room do I go to for worship? What do I do with my kiddos? Are there adult classes? You'll also want to stop at the Next Steps desk to receive your thanks-for-being-here gift.
WHAT SHOULD I WEAR?
Some people come in business attire, others in shorts and a t-shirt. Most people at Trinity dress casually. We encourage you to dress in a manner that is comfortable for you.
HOW LONG DO SERVICES LAST?
Our services typically last about 50-55 minutes. The timing all depends in the elements in the service.
DO YOU SERVE COMMUNION?
Yes, communion is served the 1st & 3rd Sundays of the month. We use self contained wafers and grape juice. Our pastor will give instructions during this part of the services.
ARE THERE ADULT EDUCATION SUNDAY MORNING OPTIONS?
We have both a men's and women's group that meet in person at 9:00 a.m. These groups offer opportunitities to grow your faith with friends, old and new.
You will generally find the Authentic Men in the Trinity Students area on the north end of the building.
You will generally find the Sunday Women's Group in Connection Room 2 across for the Trinity Cafe on the west side of the building.
From time to time they meet together for study. This typically happens in the Trinity Student's area.
IS THERE SOMETHING FOR MY KIDS DURING WORSHIP?
Trinity Kids is more than Sunday school. Kids from preschool age through grade 4 will have a blast with new friends while learning about Jesus through worship, games, and activities all designed to engage kids with the Good News of Jesus.
When you arrive, you will want to use our Secure Check-in located in the Commons. Trinity Kid's volunteers will be available (look for the green shirts) to greet your family and assist you.
Our nursery is part of Trinity Kids, too. It is available beginning at 3 months of age.
IS THERE SOMETHING FOR MY MIDDLE/HIGH SCHOOL STUDENT?
Trinity Students is for grades 6-12 on Wednesday evenings during the school year. Here's the schedule
6:00 p.m. - Doors open for hang out time with friends. Enter through the northeast doors.
6:45 p.m. - Gather in the Community Room for big room game time; loads of fun with students and leaders.
7:15 p.m.- Gather in the Student Center for announcements and praise, worship, prayer and an engaging message.
7:45 Break into small groups to connect the message to real life.
8:15 p.m. - Head home
Things to note:
We have a vending machine.
The Student Store is open to purchase pizza, pop, water, and snacks.
Trinity Cafe is open for purchasing specialty drinks.
Our summer schedule is slightly different. Open gym at 5, Bible study from 6-7. We do not serve pizza in the summer months.
We take a break in early June and late July.
We look forward to meeting your student!
CURIOUS ABOUT TRINITY CHURCH?
Get to know Trinity Church and why you may want to join in the mission God has cast for us by attending Connection Course series. Four topics to help you get to know who we are and how we love Jesus.
Each week stands alone. Each week takes place in the Chapel. Each week is short and explores a different facet of who we are. We look forward to these times together to share about our church.
Topics in the graphic below.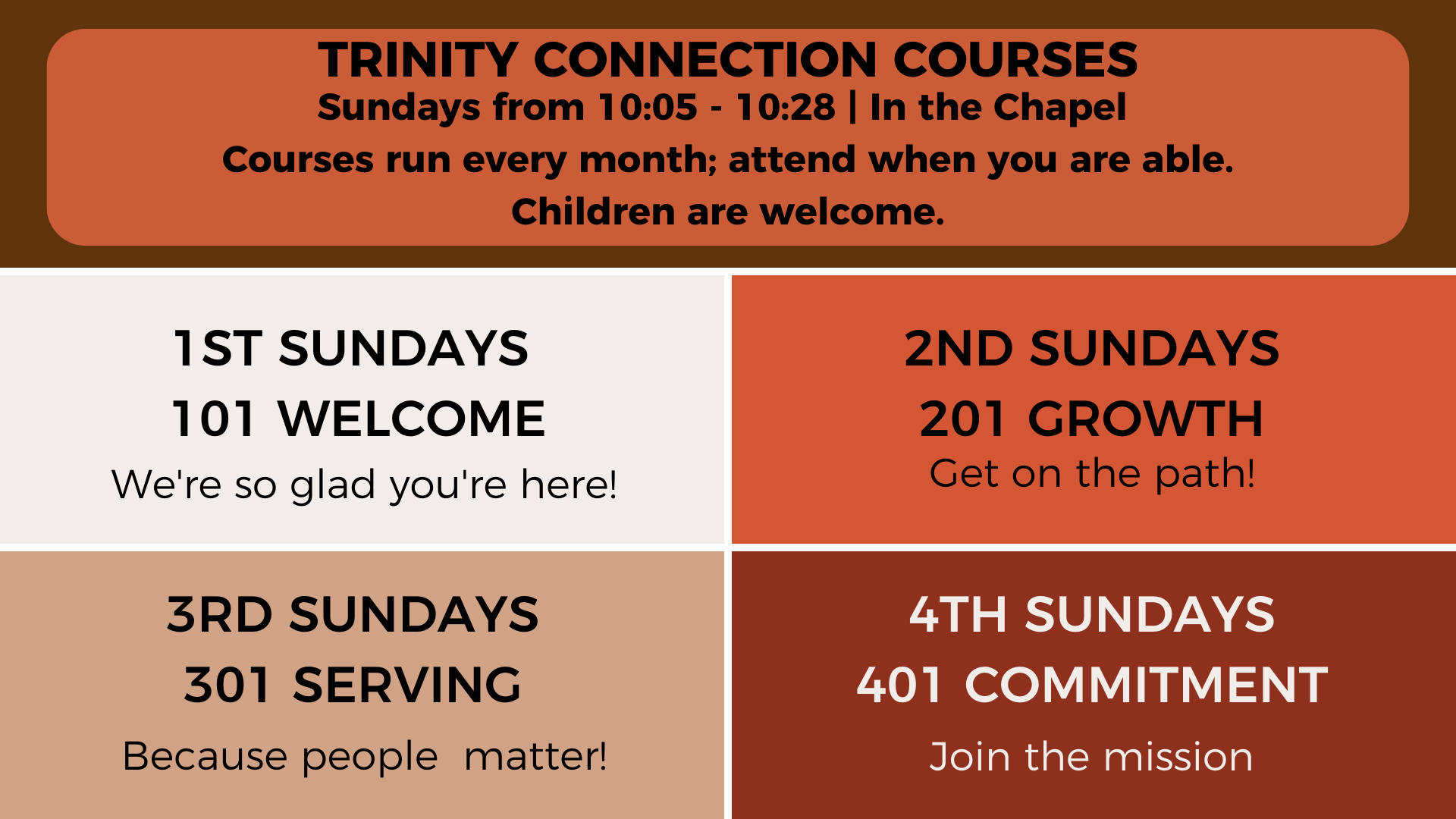 Reach out to us at 402-339-3788 with any question we haven't covered.